DOG PARKS -TIPS FOR KEEPING YOUR DOG SAFE WHILE VISITING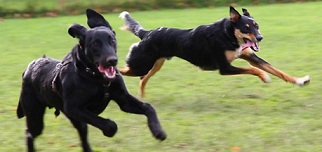 Dog parks have become a popular way to provide exercise for many dogs. They are not my favorite way to exercise a canine, however Emma has taken a liking to them, so I have found myself checking out local dog parks, recently.

If you are considering taking your best friend to a park for dogs, or are already taking yours to one, just remember that they can be potentially dangerous. Yes, it is possible to visit these parks regularly, and never have a problem. However, the potential danger is still there, because anyone can bring her/his canine to one, whether that dog is suitable to be there, or not. Inevitably, someone will bring a canine there that has no business being there, and a fight will ensue. Here are some tips for making sure that all your visits to the dog park are safe for your best friend.

TIP 1: MAKE SURE THAT YOUR DOG IS SUITABLE

Some dogs have no interest in interacting with groups of other dogs. If your dog is one of those, don't force the issue. Your canine can live a happy, fulfilled life without ever going to the dog park. Please do not bring Fido to a dog park if it is scared of other canines. Fido will feel trapped, and will want to escape, so it is cruel. Also, the Marin (County) Humane Society did a study of dogs that start fights in dog parks, and they found over and over again that fights were started by fearful dogs that felt cornered. By the same token, if Fido always acts dominant around other canines, don't bring it to one. If it meets another dominant canine, and neither wants to back down, there will be a fight.

TIP 2: KNOW THE OTHER DOGS THAT ARE PRESENT WHEN YOU GO

The best way to know that your canine will be safe at the dog park is to know the dogs that are there. To achieve this knowledge, check the park out at different times of the day, without Fido. Observe the dogs that are regulars at different times of day. Talking to the other dog guardians who are present at these times can give you valuable information about the normal group dynamics.

Find a time of day when there is an established group of canines that get along well with each other, and whose members are the types of dogs that your best friend is most likely to get along with. Then, test your dog out with that group to make sure that it is a good fit. For instance, Emma does not like it if all of the dogs run up to check her out when she enters, so I do not put her in a situation where she has to deal with that. Also, she loves to play chase, so I look for groups that include dogs that like to run.

TIP 3: WATCH NEWCOMERS CAREFULLY

Once you and your best friend have found a suitable regular time to visit the dog park, you can feel that your canine will most likely be safe, as long as you know the dogs that are there. However, you can expect that new dogs will show up at any time. Any time a strange dog is present, call your dog back to you, and observe the newcomer's body language to see if it is exhibiting fear or dominance. Either of those are red flags that a fight could ensue, and it is best to take your dog out of the situation. Generally, newcomers will be fine, but it's best not to assume that that will always be the case.

TIP 4: MAKE SURE THAT YOUR DOG KNOWS HOW TO COME WHEN CALLED

Before you ever take your dog to a park for dogs (or anywhere else where you plan to let it off its leash), be absolutely certain that your dog will always come back to you if you call it. This is for your dog's safety. I meet far too many people whose dogs regularly ignore their humans' calls. These dogs don't return to their humans until they decide that they're finished playing; or until someone catches them. Don't be one of those people. It's too dangerous for your dog, and it weakens your position as the one in charge.

Remember that it is not necessary to ever take your best friend to a dog park. If you are like me, and prefer to exercise your dog in other ways, then you needn't feel guilty if your canine never learns that there is such a thing as a dog park. However, if you feel a desire to take Fido to one, and Fido agrees that it is a good idea, then go ahead and try it. Just remember to follow the tips outlined above, and have fun with it.