Why My Company is Called "Silver Lining Pet Services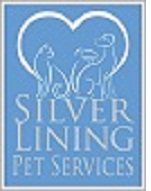 Recently, a new client said that she was initially turned off by the name "Silver Lining Pet Services." She said that it brought to mind the idea of death and funerals. This was, to say the least, upsetting to me. It is certainly not the image that I had hoped to project when I named my business. This is not the first time that I have been told something like this, however. About a year ago, a neighbor, noticing the name of my business on my car door said something about the fact that she had recently had a dog die; and that she would have used my services at that time if she had noticed the door sign soon enough. I didn't ask her why she thought that my business had something to do with dead dogs. I was merely puzzled that she hadn't noticed that under the name of the business it talked about dog training and pet sitting.
The recent revelation by my new client has stayed on my mind so much that I googled "silver lining," "silver lining pet," and "silver lining funerals," just to see what would turn up. I learned that there is an upcoming movie, with "Silver Lining" in the title, and it has nothing to do with funerals. I also learned that there is a company called "Silver Lining Funerals" in Australia. However, I additionally learned that there is more than one pet rescue organization which has a name that contains "Silver Lining." That was heartening.
After the client told me about this, I explained the name to her. And, I figured that I might as well explain it to the world, as long as I'm at it. So, here goes…
In 1991, I acquired an older puppy, which had been found by a co-worker in the mountains. At the time, I was working for the US Forest Service, and the Calif. Dept. of Fish and Game studying mule deer fawns in the Warner Mountains. The Warners are a small spur of the Cascade Mountains located in the northeast corner of Calif. The woman who found him named him Jake, and I kept the name when she gave him to me.
I knew nothing about dog training; and I was a shy, meek woman. Jake was a strong-willed male dog. He quickly took charge. From the beginning, Jake was aggressive towards other animals. Originally, he was scared of other dogs; but he became aggressive towards them too. He loved other people. However after a year or so, he also occasionally was aggressive towards a person, as well.
I loved Jake dearly, and wanted to help him. That's what led me to C. William Meisterfeld, a specialist in aggressive dogs, and one of the first dog trainers to use a form of positive reinforcement in his training. I took Jake to William for help. He told me that I would have to change to be able to change my dog. I followed his instructions the best I could. As my dog and I got better, I became more and more interested in helping others who were having problems with their dogs. I continued going back to William to learn more.
William was a big believer in changing the name of a dog when it was being retrained. This was due to the association of the dog's old name with the dog's behavior. He gave Jake the name "Alfred." I was not too fond of that name, and called him "Al."
It took some time, and a lot of work on my part, to reprogram Al into a dog that could be trusted not to attack other animals, or bite humans. When he emerged as a new dog, it seemed to me that he needed a new name; a name that reflected his new demeanor. His previous names had been given to him by others. I wanted him to have a name that I had chosen. I chose to call him "Silver." He was sort of silver in color, and I figured that, since silver is not quite the most precious metal, "Silver" was appropriate for a dog who had had problems that showed that he was definitely not the most perfect dog in the world.
With the new dog name came the idea of a company name. To me, thinking that I wanted to help others who were having problems with their dogs, the idea of adding a silver lining to their lives by helping to solve their problems made sense. And, that was that.
What do you think? What does my company's name say to you?
This site is owned and maintained by Silver Linings Pet Services. 1547 Palos Verdes Mall #202, Walnut Creek, Ca 94597 (925) 366-6042