Tips For Dealing With a Barking Dog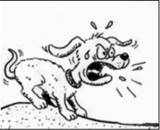 An excessively barking dogscan be a real problem for its guardians. Not only do the owners have to deal with the noise, but there can be legal problems, as well, if neighbors complain about it. Here are some tips to try for teaching your dog not to bark.
TIP 1: TEACH YOUR DOG TO "SPEAK" ON COMMAND
Yes, you read that right. Teach your dog to speak on command. By doing this, you can reinforce your dog when it barks on command. Then, when your dog barks without a command, the lack of reinforcement will make barking just for the sake of barking less appealing. I once had some clients who successfully used this technique on their beagle. Nothing that they had tried previously had worked, but once they taught him speak, he totally stopped being an inappropriately barking dog.
TIP2: TEACH YOUR DOG "QUIET"
Teach your dog to stop barking when you say "quiet." That way you can allow your dog to bark a little in warning, then tell it to stop, and reinforce it. Teaching "quiet" is effective for getting a dog to stop barking, but generally is not enough to keep your dog from barking excessively. So, use "quiet" in combination with other tips you find here.
TIP 3: USE A SPRAY BOTTLE WHEN YOUR DOG REFUSES TO STOP BARKING
Generally, I try to stay away from using negative measures to train dogs. However, one has to acknowledge that, sometimes, positive reinforcement just isn't enough. The problem with barking is that it is self-reinforcing. The more a dog barks, the more it enjoys barking, and the harder it is to get it to stop. Many barking dogs react to spray bottles. When using a spray bottle, first tell your dog "quiet," then if it keeps barking, spray it a few times in the face. If plain water has no effect on your dog, you can try mixing it 50/50 with vinegar, which is generally unpleasant enough to a dog to get it to interrupt a behavior.
TIP 4: IF ALL ELSE FAILS, TRY A CITRONELLA COLLAR
If you have a dog that just won't stop barking inappropriately, no matter what you try, you may have to resort to the use of a stronger negative reinforce. I strongly urge you to avoid using one of the electronic shock bark collars. These are designed to train through pain, and I therefore consider them to be inhumane. However, there is an alternative. It's a collar that sprays citronella towards a dog's face when the dog barks. This is generally unpleasant enough to get dogs to stop barking, and has the advantage that it gives the do negative reinforcement whether a human is present, or not.
Teaching your dog not to bark inappropriately will not only give you more peace, it will also help your dog to learn to be calmer. So, keep working on it. It will be worth it. Good luck!
This site is owned and maintained by Silver Linings Pet Services. 1547 Palos Verdes Mall #202, Walnut Creek, Ca 94597 (925) 366-6042