LESSONS FROM A DOG ON ENTHUSIASM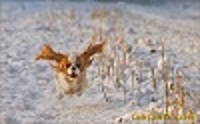 It has been a couple of months since I said that I would work on doing everything with enthusiasm, as Emma does. It has been a difficult task, I admit. I have not nearly accomplished it, actually. However, I have learned some things from working on it, and I would like to share them, now.

The first thing that I learned is that I hadn't really thought through what this really meant. As I started my attempt at doing everything with enthusiasm, it quickly dawned on me that I perform many more activities each day than Emma does. She, as a dog, has a relatively short list of activities in which she engages. However, I engage in many activities that a dog never has to think about. In fact, I would say that the majority of the things that I do are not things that Emma needs to do. And, many of these activities are things that I "have to do," rather than things that I want to do. Emma generally does things that she wants to do; eating, sleeping, playing, getting attention, greeting people, etc. It's a lot easier to be enthusiastic about activities that you want to do than those you don't.

So, I thought that I might just concentrate on being enthusiastic on those things that I wanted to do, at first, and see where it got me. This turned out to be a lot harder than I thought it would be; mainly because I am so used to not being present with what I am doing. It's hard to do something with enthusiasm, if your mind is on something else. I am habitually so not-present (many would call it ADD) that I couldn't even remember to work on being enthusiastic.

It appeared that I had to go slower. I finally just started watching Emma; I mean really watching her. And, I developed the habit of asking myself "What would Emma do?" One day, I watched Emma, and her friend Zoey as they played while the three of us were hiking in the hills. All of a sudden, I got it. Emma and Zoey were completely present; and they were happy because they were in the best place ever. It wasn't really the best place ever; it's just that they were where they were at that moment. That made it the best place ever, because they were together, and they were off-leash, and I was there watching out for them. They didn't need anything else. Everything was perfect.

What a revelation the above is! Whenever I remember to pay attention to what I am doing, and where I am, then I can remember the reason that I am there doing what I am doing. When this happens, I can come up with a reason to be grateful for what I am doing. Then, the enthusiasm comes naturally. The hardest part, or course, for me, is to remember to pay attention to what I am doing, and to where I am.

I am still working on it, obviously. What I have gotten from this experiment is well worth it. And, I know that when I get it, my life will improve. Stay tuned.



FREE SUBSCRIPTION
to Rosebud's weekly e-zine for pet owners who want the best for their pets, Silver Linings.
LEARN dog training techniques
OBTAIN dog behavior information
RECEIVE general pet information
READ fun animal stories.

We promise to never sell, rent, trade, or share your information with any other individual or organization.
---

DO YOU LIVE IN THE SAN FRANCISCO EAST BAY? CHECK OUT OUR DOG TRAINING AND PET SITTING SERVICES
---

WANT TO LEARN HOW TO TRAIN YOUR DOG??
BUY THE E-BOOK THAT SHOWS YOU HOW TO HAVE A DOG THAT BEHAVES WELL IN ALL SITUATIONS CLICK HERE FOR THE PDF VERSION
---
---
FREE 15-MINUTE SKYPE APPOINTMENT