HOW TO GET OTHERS TO LOVE YOU - BY EMMA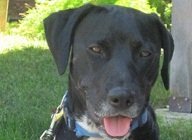 I am so excited! I have been looking forward to running an advice column for so long now, and now I finally have my first question to answer (tail wag). So, here goes….

Dear Emma,I have noticed that you seem to have an uncanny knock for making friends with everyone that you meet. My question is 'How do you make everyone fall in love with you?.'

Sincerely,

Jackie M, Concord, Ca."

Wow, if I was able to, I'd be blushing right now. Do you really think that "everyone" falls in love with me? I sure hope so (tail wagging harder)!

Oh, how I love this question! Friends are what life is all about, don't you think? I never pass up the chance to make a new friend. And, therein lies the whole secret to "making everyone fall in love with you." It's so simple, really. You just have to notice when you have a chance to make a friend, expect that they will become your friend, and go from there. And, of course, you have to really want to be their friend.

Now, I do have to admit that, being a dog, I have some advantage in making myself irresistible. I mean, the vigorous tail wag is such an important part of it all for me. However, you humans have the advantage when it comes to facial expressions. Sure, we dogs can smile, a little, and use our eyes and ears to express things. However, you humans have whole faces that can do way more to express warmth and friendship than our furry countenances (How do you like that word? Pretty good word for a dog, don't you think?).

So, first thing humans, when you approach someone new, put on your warmest smile. Make sure that that smile shows on your whole face; your mouth (of course) your cheeks, your eyes, every part of your wonderfully expressive faces. Smile like you are vigorously wagging your tail. Now, of course, if you're a dog, like me then get that tail really wagging as soon as you see someone, whether you know them, or not.

Next, offer your paw. For humans, I guess that means offer up a warm handshake. Observe some dogs to see how we offer our paws in an irresistible manner. I have observed that some humans can be nervous if another human offers a hand for shaking, so put your paw out in a way that's inviting to others, like we dogs do. If you need practice, I will be happy to assist you next time we see each other.

Now, here is the part that most humans don't get. Invite others to play with you. Put a playful look on your face, and make your body language playful. I also like to present a toy, if there's one handy. If not, just the body language is usually enough. It's not necessary to actually play with them, but of course, if they want to play, then go for it!

I find that touch is really helpful in making new friends. I like to use body language to ask people to scratch my rear end. However, Sue says that that isn't really appropriate for two people who have just met, so I guess that you will just have to rely on the handshake that I talked about earlier.

Okay, I am going to have to say that I have another advantage here when I am working on making friends with a human. I can make myself look cute whenever I want to. Sue says that looking cute can be misinterpreted when humans try it on each other, so I don't know if this is the best advice for humans. However, I have to say that I have seen many adult humans "fall in love" with small children, who seem to be as good at looking cute as I am. So, I would have to say that you should try it out. Go ahead; look cute. Cock your head to one side, and look up at the person with soft, half-closed eyes. I'm sure that, if you do it right, others will find it irresistible. And if looking cute isn't enough, you can always try a soft "woof," timed right, to let them know that you are interested in interaction.

Thank you so much for your question, Jackie! If you have any more questions, send them my way. Oh, and let me know how my advice works for you! I look forward to hearing from you, again.Now it's your turn, e-zine and blog readers. What's your question?

Until next time!

"Woof"

Emma
Ask Emma a Question:

FREE SUBSCRIPTION
to Rosebud's weekly e-zine for pet owners who want the best for their pets, Silver Linings.
LEARN dog training techniques
OBTAIN dog behavior information
RECEIVE general pet information
READ fun animal stories.

We promise to never sell, rent, trade, or share your information with any other individual or organization.
---

DO YOU LIVE IN THE SAN FRANCISCO EAST BAY? CHECK OUT OUR DOG TRAINING AND PET SITTING SERVICES
---

WANT TO LEARN HOW TO TRAIN YOUR DOG??
BUY THE E-BOOK THAT SHOWS YOU HOW TO HAVE A DOG THAT BEHAVES WELL IN ALL SITUATIONS CLICK HERE FOR THE PDF VERSION
---
---
FREE 15-MINUTE SKYPE APPOINTMENT