THE HARDSHIPS MALE GREAT GRAY OWLS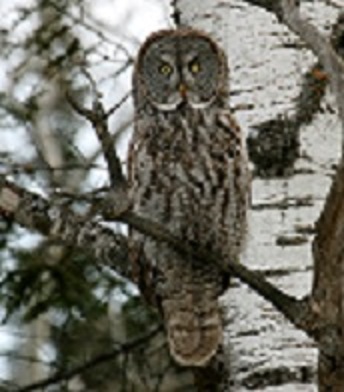 I used to be a research wildlife biologist. Yosemite's great gray owls were the topic of my research during 1986-1990. In this article, I'd like to give you some perspective on whatlife is like for males of that species.

I must say that it's got to be stressful to be a male gray owl. Great gray owls generally mate for life. However, they don't necessarily stay with their mates during the winter. As winter is coming to a close, they will meet up on their breeding grounds, and go through a renewed courtship; preening each others' face, and billing (a bird version of kissing). As part of the courtship, the male also brings the female presents of food.

It's the male's job to find a nest site. Now, owls don't make nests. Some owls will use old nests made by other large birds, or will nest in holes in trees. Great gray owls prefer to lay their eggs on a flat top of a broken tree trunk, or on top of a high stump. For the Yosemite owls, having good shade over the nest site is critical, because of all those warm feathers.

AS I said, it's the male's job to find a nest site. The male will tour the territory, looking for a suitable broken off tree trunk. When he finds one, he leads his mate to it for inspection. The female then sits on the trunk, trying it out. If she likes it, she gets herself prepared to lay her eggs there. If not, she lets the male know, and off he has to go to find another.

The above must be stressful enough for the male, but it is nothing compared to what he has to go through once the eggs come (generally, they lay 2-4 eggs). Female great gray owls do all of the incubating of the eggs. This is not true for all bird species. The males of many species share incubation duties with their mates. Since the female has to stay with the eggs pretty much 24/7, the male has to feed her.

Now, I don't know if you are aware of this, but predators have a hard time obtaining food. Prey animals have all kinds of ways of avoiding getting eaten, so predators have many failed hunting attempts for every successful one. With the female sitting on the nest, the male has to double his hunting efforts. And, as if that wasn't enough, his mate will call frequently to let him know that she's hungry. And, she's bigger than him. And, she needs more food than usual, because of the energy required to produce and lay eggs. I clearly remember camping near a great gray owl nest where the female called to the male all night long. And, that little male would just keep plugging away, trying to catch some little animal to satisfy his mate.

But, of course, this is nothing compared to what happens when the eggs hatch. Once that happens, that little male has to catch food for his whole family. And, the babies grow quickly, requiring more and more food. After 2-3 weeks, the babies leave the nest. Owls leave the nest before they can fly, so at first the babies stay close to the nest site; with Mom staying close by to protect them. And, Dad is still feeding everybody. And, in addition to Mom calling to Dad to tell him that she's hungry, the babies chime right in , and let him know that they're hungry, too.

Once baby great gray owls are flying well enough, they fly down closer to where the male hunts; still expecting to be fed, and vocally letting Dad know, but also learning how hunting is done. At this point, the female leaves. Yeah, that's right, she goes off, and leaves her mate to finish the job of child rearing. The male hangs around until his kids are hunting on their own, then he takes off, as well, no doubt for a well-deserved rest.>br?>br?Whew! Just thinking about all the work those little guys go through makes me tired. How about you?

FREE SUBSCRIPTION
to Rosebud's weekly e-zine for pet owners who want the best for their pets, Silver Linings.
LEARN dog training techniques
OBTAIN dog behavior information
RECEIVE general pet information
READ fun animal stories.

We promise to never sell, rent, trade, or share your information with any other individual or organization.
---

DO YOU LIVE IN THE SAN FRANCISCO EAST BAY? CHECK OUT OUR DOG TRAINING AND PET SITTING SERVICES
---

WANT TO LEARN HOW TO TRAIN YOUR DOG??
BUY THE E-BOOK THAT SHOWS YOU HOW TO HAVE A DOG THAT BEHAVES WELL IN ALL SITUATIONS CLICK HERE FOR THE PDF VERSION
---
---
FREE 15-MINUTE SKYPE APPOINTMENT