PUPPY AND KITTEN - EMMA ANSWERS HER SECOND QUESTION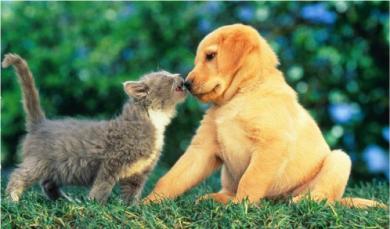 Marty W of Rossmoor asked me (Emma) a question: "If we're going to buy a puppy and a kitten, which one should we bring home first?" I'm so excited to be able to answer this (tail wag)!

This is soooo obvious!! I mean, a kitten, really? Who needs a kitten? I have known several cats. In fact, I have to share a bedroom with three of them. I always ask cats to play, and all they do is either run away or get mad. Sometimes, the cats that I live with keep me from being able to cross the room. They lie where I have to walk passed them, then take swipes at me when I get close. Cats are useless. If you want to get two pets, then just get two puppies. Then, invite me over to play with them. That's definitely the best plan.

Thank you for writing to me! I love answering questions from humans. It makes my tail wag like crazy! Come on, humans, ask me about anything. Dogs can write to me, too. I will give you the right answer every time. Oh, and Sue says that I have to take questions from cats, as well, so go ahead cats, write to me.

Sue's rebuttal:

I feel the need to answer Marty W.'s question from a dog trainer's standpoint, because, as you can see, Emma is rather biased on this particular subject. This is a really good question. I am assuming that there are not already dogs or cats in the household, because that would make the below answer less meaningful. I definitely recommend that you don't get both of them at the same time. Even if they were both canines, as Emma suggests, I would not get them both at the same time. This is because each of them will need individual time to form bonds with the human family members, and to be taught boundaries.

As for which you should get first, I would lean towards the kitten. The reason for this is that a puppy coming into a territory already occupied by a cat will accept that the cat is a dominant pack member, at least at the start of their relationship. This will minimize the chances of the puppy looking upon the kitten as just something to go after; and if the dog is properly trained from the beginning, it will then grow up not wanting to chase the cat every time that it sees it.

The above being said, I would try to get the puppy while the cat is still fairly young. This is so that the cat can learn to accept the presence of a canine, and possibly even bond with it. Older cats, that haven't had to live with dogs in their past, tend to act put out when a dog is introduced into the household. An adult cat may act out by marking, by staying away from home for long periods of time (should it find a way to get outside), or by attacking the puppy, and even its humans, to show its displeasure with the fact that a dog is now in its territory.

You will need to also take into consideration that the puppy will need to learn many things, including; boundaries, household rules, and how to behave in public, when you first get it; and will therefore need a great deal of attention. If you get a kitten, and shower it with attention, then start giving most of your attention to the puppy, the kitten will probably act out in unacceptable ways to get your attention back. Make sure that, before you get the dog, you teach your kitten that there are times when you can give it attention, and times when you can't. And, also, make sure that the kitten still gets individual attention once the puppy is introduced into the mix.

There are many households that have successfully integrated both dogs and cats. A dog and a cat can even develop a close friendship where they play and sleep together. Good luck with your new house members; and remember to contact me for help with your puppy training!

FREE SUBSCRIPTION
to Rosebud's weekly e-zine for pet owners who want the best for their pets, Silver Linings.
LEARN dog training techniques
OBTAIN dog behavior information
RECEIVE general pet information
READ fun animal stories.

We promise to never sell, rent, trade, or share your information with any other individual or organization.
---

DO YOU LIVE IN THE SAN FRANCISCO EAST BAY? CHECK OUT OUR DOG TRAINING AND PET SITTING SERVICES
---

WANT TO LEARN HOW TO TRAIN YOUR DOG??
BUY THE E-BOOK THAT SHOWS YOU HOW TO HAVE A DOG THAT BEHAVES WELL IN ALL SITUATIONS CLICK HERE FOR THE PDF VERSION
---
---
FREE 15-MINUTE SKYPE APPOINTMENT