RATS!!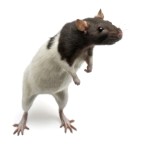 There was a period of time in my mid-twenties when I ended up having several rats for pets. They ended up being my pets after they had been purchased as babies to be used as bait in traps for catching great gray owls in Yosemite (which generally caused the rodents no harm). The owls were being caught for the purpose of putting radio transmitters on them so that we could track them. Once the rats grew up, they became too big for our traps, and for the owls. I found homes for some. In fact, there was a teacher at the elementary school in El Portal (just outside of Yosemite) who helped me out by finding families to take several of them. However, there were always those that I just ended up having. Here are some stories about my favorites. By the way, in case you're wondering, rats make great pets.
Benjamin K Rat was my favorite. I don't remember whether the "K" stood for anything. I don't think it did. And, no, he was not named for the movie that Michael Jackson sang the theme song for in the early 1970's ("Ben the two of us need look no more. We've both found what we've been looking for. With a friend to call my own, I'll never be alone…."). Benjamin was all gray. And, he was big for a domestic rat. He was incredibly smart. This was long before I got into dog training, but I was able to teach him to come when he was called. I would let him run around the campsite where I lived in the summer. Then I'd call him back so that I could put him away. He liked to chew on the grass seed heads in the campsite. One day, however, he somehow got out of his cage, and took up residence under the big canvas tent that we kept our equipment in. I missed him while he was gone, but I knew he was okay, because I would see evidence of his visits to get food. He refused to come back when I called him, however. Then, one day, out of the blue, he ran up to me while I was in the tent, and we had a happy reunion. He happily stayed with me for the rest of his life after that; and came to Davis with me when I attended graduate school.
Shorty was another smart rodent. She was named because she was born with an incredibly short tail; it grew to maybe 1 cm long. We had a strict policy of only getting male rats, because we didn't want to have our rats breeding if they happened to get loose in Yosemite. However, occasionally, there was a slip-up. It's not always so easy to tell the gender of a baby rat. That's what happened with Shorty. We didn't know that she was a female until she became pregnant; and she managed to do that twice in a very short period of time. Shorty could climb pretty well. However, rats totally rely on their tails for balance when climbing, so she wasn't quite as adept at climbing as others with normal tails.
Shorty was with me for a few years, and lived with me in Davis just as Benjamin had. There is one story that stands out in my head from that time. One of my housemates had a German shepherd, named Lady, who didn't always eat all of her food at once. One day, I let Shorty out of her cage to get exercise. I wish I had filmed what happened when she discovered Lady's food bowl. Of course, this was in the days when a video camera was a big, expensive, clunky thing, and it wasn't exactly in my budget. I did not witness the initial discovery of the dog food. Anyway, Shorty clearly thought that she had discovered quite a treasure in that dog bowl. I watched her as she repeatedly ran to the bowl in the kitchen, picked up one piece of kibble, ran down the hall to my bedroom, and stashed her prize under my bedspread (where it met the floor). It was a crack-up. I realize, as I write this, that you would probably agree with me if I did have a video to share. It's not as funny to just read it.
Two of Shorty's sons lived with me the longest, Bert and Ernie. They had normal-sized tails, and were each about twice as long as their mother. Their markings were like hers, though. All three of them were mostly white, with dark hoods and dark stripes down the middle of their backs. I don't really remember that much about them. However, not only did they go through graduate school with me, but they went with me when I left graduate school to work in the Warner Mountains (in the extreme northeast corner of California).
Okay, bear with me for one more rodent story. This is actually a hamster story. We briefly tried hamsters. They were more suited to our needs. Rat tails interfered with the traps. Hamsters don't have tails. However, they didn't do as well when left overnight in traps; and they were more expensive to buy. I don't remember if this hamster had a name. I just remember that somehow it got loose in my truck, and disappeared. Then one day, a couple of weeks later, it popped into the cab, from the direction of the engine compartment (and, yes, we had been using the truck regularly), completely fine, but missing a foot. I sure wish it could have told me its story.
One of these days, I'd love to have a rat, again. Since getting into dog training, I've run into a lot of information on clicker training them. From my experience with them, I'd bet they'd be a blast to train.
This site is owned and maintained by Silver Linings Pet Services. 1547 Palos Verdes Mall #202, Walnut Creek, Ca 94597 (925) 366-6042