THE SCARED DOG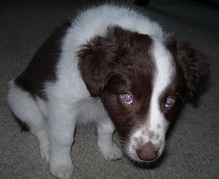 A scared dog can be hard to deal with. Saturday, I took Emma to a park to do some hiking, and for some reason, she became terrified when we were in a certain area of the park. It made me feel bad for her, but was also frustrating for me, since the area was near the entrance to the main part of the park, and so was therefore hard to avoid.

Several hours later, there were fireworks going off in my neighborhood in celebration of a new year. Emma started trembling and barking. I had not seen her react so strongly to loud noises before. She has not, in any way, caused me to think that she was a fearful dog, in the past, but twice in one day she displayed strong fears to outside stimuli.

Chronic fear in a dog is something that needs to be addressed for the sake of the dog's mental health. Dogs can have fears of certain types of people, other dogs, loud noises, riding in a car, a raised hand, seemingly innocuous objects, specific places, etc. Many people would advocate simply forcing these scared dogs to confront their fears, so that they can see that there really isn't anything to be afraid of. To me, this is a recipe for disaster. Exposing your dog to whatever it's afraid of is most likely going to increase your dog's fear, not decrease it.

Each time your dog is exposed to something that it is afraid of, it gets a chance to practice being fearful. And, as you know, "practice makes perfect." Every time that your dog practices being fearful, its fear becomes strengthened. So, eventually, your dog will be perfect at being afraid.

However, the idea of exposure to the fear stimulus, in and of itself, is a good one. The trick is to expose your dog to the fear stimulus in such a way that it is non- threatening; and to reinforce your dog for being calm during the exposure. In this way, you can change your dog's perception of the fearful stimulus from a negative perception to a positive one.

How is this accomplished? Let's take a dog that is fearful of fireworks, since it came up the other night. Get a recording of fireworks, or something that sounds like fireworks. Then, play this recording, at such a low volume that your dog does not react to it, whenever you are providing your dog with something that it likes. You need to play the recording when you feed your dog, while you play with your dog, while you are giving your dog attention, and while you prepare to take your dog for a walk. The idea is to get your dog to associate the sound with things that are pleasurable.

Gradually, and I do mean gradually, increase the volume when you play the recording. If, at any time, you see that your dog is showing fear when you play the recording, you need to turn it off, wait for your dog to calm down, and then try again at a much lower volume. Hopefully, you can increase the volume gradually enough to never see a fear reaction in your dog, until you are playing it at full volume, and your dog doesn't react at all.

Many other fears in dogs are to visual stimuli. So, instead of starting at a low volume, and increasing it, you are going to use distance. Bring your dog close to an object that causes a fear response, but far enough away to not evoke that response. Give your dog lots of positives for being calm. Do this a few times, then move one step closer, and repeat the process.

Gradually decrease the distance, making everything positive, as long as your dog remains calm. If your dog gets scared, at any point, you need to get your dog away from the stimulus, and wait for it to calm down, before trying again at a distance that the dog can handle.

If you address each of your dog's fears in a systematic, positive way, as described above, you can gradually alleviate each and every chronic fear that your dog has. Doing obedience training with your dog will also help.Your dog's confidence will increase, and you will be able to expose your dog to a lot more new things. Good luck!

For complete information on working with a fearful dog, or a dog with other behavior problems, check out my e-book.


What did you think of this article? Write your comments below.

FREE SUBSCRIPTION
to Rosebud's weekly e-zine for pet owners who want the best for their pets, Silver Linings.
LEARN dog training techniques
OBTAIN dog behavior information
RECEIVE general pet information
READ fun animal stories.

We promise to never sell, rent, trade, or share your information with any other individual or organization.
---

DO YOU LIVE IN THE SAN FRANCISCO EAST BAY? CHECK OUT OUR DOG TRAINING AND PET SITTING SERVICES
---

WANT TO LEARN HOW TO TRAIN YOUR DOG??
BUY THE E-BOOK THAT SHOWS YOU HOW TO HAVE A DOG THAT BEHAVES WELL IN ALL SITUATIONS CLICK HERE FOR THE PDF VERSION
---
---
FREE 15-MINUTE SKYPE APPOINTMENT