Yes, Emma Has No Squeaky Toy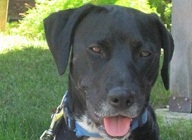 Emma has never had a squeaky toy. At least, she hasn't had one in the four years that she's lived with me. I don't know what kind of toys she had before that. In fact, I have never bought a squeaky toy for any dog, and I doubt that I ever will. Emma loves them, though, I do admit. Every time that she visits a dog friend that has a toy basket, she pulls out a squeaky. Then, if I don't intervene, she makes it squeak, and squeak, and squeak. After a while, if I let her, she'll go get another one, and do the same thing. She'd do it all day long, if I didn't stop her.
Maybe, she's so obsessed with these toys because she doesn't have one of her own. However, I doubt it. She behaves differently with other toys. She plays with them, runs around with them, throws them in the air, invites others to play with her. But she just makes squeaky toys squeak. That's why she doesn't have any. She is obsessed with the noise they make.
You may be thinking here, and you'd be right, that I get annoyed with all that squeaking. However, it is not the annoyance that keeps me from letting her have them. It's the obsession. It is just not healthy for her.
Of course, no obsession is healthy. However, this particular obsession is downright dangerous. You see, squeaky toys sound like mice; they sound like prey. Emma is hunting when she goes after those squeaky toys. This is behavior that I don't want to encourage in her. And, if you, like many dog guardians, have one of those dogs that will pull the squeaker out of a toy the moment it gets it, then your dog is hunting, also. It is killing the mouse. Killing mice is all well and good for cats, hawks, owls, and coyotes. It is not so good for dogs; unless of course, you have trained your dog to kill mice to keep the mouse population down on your property. Then, it is doing its job.
A dog that is "killing" toys is not doing its job. It is getting jacked up on adrenaline; adrenaline that is released in the dog by the sound of the squeak. This adrenaline brings out aggression in the dog. Hopefully, all of the aggression is taken out on her play thing. However, I have seen Emma act like she wants to guard her "prey" against other dogs. Or, in her state of excitement, brought on by adrenaline, she might run around in a frenzy. In this frenzied state, she loses her general sweet nature; and in the early days of our relationship, it would lead to nipping and clothes grabbing. Emma does not need to be jacked up on adrenaline.
My original dog training mentor, C.W. Meisterfeld, was dead-set against squeaky toys. He believed they brought out unhealthy adrenaline in all dogs, which could lead to aggression. In my dog training practice, I urge all of my clients whose dogs have any aggressive tendencies, to get rid of these toys. Sometimes, I even tell them to get rid of stuffed animals, if their dogs are treating those as if they're prey, as well.
If your dog has any of these toys, I invite you to look at its behavior while chewing on them, and after chewing on them. If it is acting like it is killing prey, is over-excited after chewing on them, or is engaging in mounting behavior after chewing on them, then your dog is getting too much adrenaline, too. If that's the case, then do your dog a favor, take the squeaky toys away, and don't replace them.
This site is owned and maintained by Silver Linings Pet Services. 1547 Palos Verdes Mall #202, Walnut Creek, Ca 94597 (925) 366-6042