WHY TRAIN YOUR DOG TO SIT
You need to train your dog to sit. Teaching a dog to sit is extremely valuable. Here are some of the reasons to train your dog to sit. Hopefully, they will help you to see why teaching your dog to sit is so important.

Reason 1: To Stop a Jumping Dog

I train all the dogs, that I work with, to sit to get my attention. Why? A dog can't sit and jump at the same time. If a dog knows that the way to get attention is to sit, it will choose to sit, instead of jumping. It really impresses people that meet your dog, too.

Reason 2: To Show That I'm in Charge of Food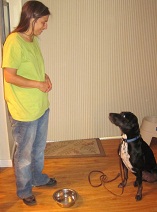 I train a dog to sit and stay while I feed it. This not only prevents it from jumping on me during the feeding process, it also reinforces the idea that I am in charge by reminding the dog that I am in control of its access to the resource known as food. The latter is accomplished, because the dog has to stay until I put its food down, and release it to eat.

<Reason 3: To Stop Dogs From Bolting Out the Front Door


To cut down on the chances that a dog will bolt through an open door, I teach it to sit and stay while I open a door or gate. The dog has to stay until given permission to go through the door. If I'm going through the door with the dog, I start to go through first. This, again, reinforces my position as the one in charge, since dominant dogs will go through doors before more submissive dogs.

Reason 4: To Keep a Dog Safe at Street Corners

I have my dog sit before crossing a street. This gets her in the habit of stopping before going into a street, thus reducing the chances that she will run out into a street should she ever get the chance. It also keeps her calmer while waiting until it's time to cross.

Reason 5: To Keep a Dog Calm

I also like to have her sit while I am talking to someone on a walk. This allows me to know where she is, and what she is doing, without me having to continuously be watching her.

Reason 6: To Control a Game of Fetch

I recommend that you train your dog to sit when it brings toys back to you in games of fetch. This will keep it from running around with the toys, and increases the likelihood that it will bring the toy all the way to you.

So, those are a few of the things that I use "sit" for when I am working with a dog. I trust that it helped you to understand the importance of this command. As far as my dog Emma is concerned, she now sits whenever she wants something. All I have to do is figure out what it is that she wants.

For free dog training tips,including how to train your dog to sit, click here. If you would like full instruction on how to train your dog to be well-behaved, get my e-book.
Let me know what you think of this page.