Why Training Your Dog Needs to be a Priority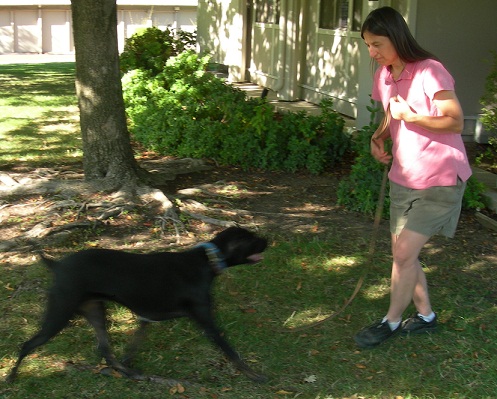 Is the following what you think when you think about training your dog? "I'm really busy right now. I'll get to it when I have more time." I don't know why hearing that from a potential client a couple of weeks ago caught me off guard, but somehow it did. I know what you're thinking; "Why would that be a big deal? Everybody has limited time to take on new things." Yes, I will grant that. But, is this really the attitude to have when you are talking about training your dog? And, more importantly, is it really the attitude to have when your dog has a behavior issue that needs to be straightened out?
What if we were talking about a toddler instead of a dog? Would you say, "I know that I need to get my child toilet trained, but now's not a good time for me to do it, right now. I'm just too busy."? And, as your child got older, would you say, "I know that I need to teach my child how to safely cross the street when walking to school, but I have that big presentation coming up, and she's just going to have to wait until after that."?
Okay, so a dog isn't a child. I will give you that. However, not training your dog can lead to serious consequences for you and your dog, just as not training your child can lead to issues for your family. If you don't engage in training your dog, it will only have its instincts to go on. And, believe me, dogs don't have instincts that cause them to automatically come when called, to only pee when outside, to not jump on people, or to chew only on appropriate objects. Dogs need to be taught how to behave in human society just as much as children do.
Most people would at least take the time to potty train their dogs. However, far too many people stop there. They intend to get the dog trained, but they feel that it's okay to wait. And, as so many of have experienced in our lives, once you allow one thing to get in the way of you starting something, something new always comes up that gets in the way of starting.
Not convinced that training your dog is important,yet? Let's look at deciding that you can wait to train your dog to come when called. That is the issue that the gentleman who told me that he was too busy right now was having with his dog. In fact, he has been having this issue with his dog for NINE YEARS. In fact, he had told me all about the game his dog plays when she gets out of the house, or away from the family when outside. You know the game; it's called "chase me." And, it's a game that dogs love. The dogs which are really skilled at it will hang out just out of reach until a person tries to get them. Then, off they sprint to another "safe" location. What fun they have with this. Meanwhile the human gets more and more exasperated as the chase gets longer and longer, and often farther and farther from home.
Why is the above a problem? I'm sure that you can think of some, but let me give you some answers, anyway. The most obvious to me is that it is potentially dangerous for the dog. I've never seen a dog, which is happily playing a game of "chase me," look both ways before running across the street. There are also potential dangers from aggressive dogs at dog parks. If the dog is playing its game of "chase me" out in nature, it could get hurt or killed by wildlife, end up somewhere that it can't get out of, fall and get hurt, etc. And, there's always the danger that the dog could get lost.
Most people think of their dogs as members of the family. Why would anyone want to subject a member of their family to such dangers? Doesn't training your dog make sense, rather than subjecting it to these dangers?
Not coming when called is not the only problem that people might ignore in their dog until they have the time. Nearly every problem behavior that a dog displays carries with it consequences that affect the health and happiness of the dog and any people that it comes into contact with. With rare exception these problems are fixable.
In my experience, if you are is too busy to train your dog now, then you will always to be busy. I have never, in my memory, had someone call me to say, "My schedule just opened up, and I have time to train my dog, now." Occasionally, though, the dog's behavior becomes bad enough that its guardians realize they have to do something about it, and miracle of all miracles, they find the time. Do your dog a favor, and figure out how to get it trained. If you can't do the training yourself, there are trainers that will board and train dogs. In addition, a growing number of trainers, including myself, offer a service called "day training, where your dog is trained by the trainer, at your home, while you are at work. Now, you really don't have an excuse. It's only fair to your dog to teach it what it needs to know.
This site is owned and maintained by Silver Linings Pet Services. 1547 Palos Verdes Mall #202, Walnut Creek, Ca 94597 (925) 366-6042