TEACHING YOUR DOG TO STAY
Stay is an important command for your dog to understand. If your dog knows how to stay, you can have it stay while you answer the doorbell without worrying about it running out. You can have it wait while you talk to an acquaintance that you see on a walk, or while you wait to be able to cross the street. You can have your dog stay under the table while you eat outdoors at a restaurant. Teaching your dog to stay is critical if you have a hyperactive dog, because it is the first step in teaching your dog to be calm. All kinds of things open up for your dog when it has a reliable "stay" command.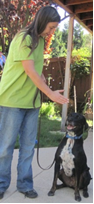 Start teaching your dog to stay as soon as it starts to understand
"sit."
In the beginning, teach "stay" in your house or yard. Have your dog on a leash while you teach it to stay, and hold on to the end of it. That way if your dog gets up and starts to walk away, you can pull it back with the leash, and have it sit back down. Once your dog has been told to stay, it needs to stay until you give it another command. A dog should never be allowed to get up from a stay without permission. Other commands that can be used to tell a dog that it can stop staying include release commands, a recall ("come") command, or a command to start walking with you.
The most common mistake that I see people make when they are teaching their dogs to stay is that they don't reinforce their dogs for staying. Instead, they have their dogs stay briefly call their dogs away from their stays, and then reinforce their dogs. Stay must be taught as a command that is separate from being called. Generally, in your everyday life with your dog, you will not have it stay before you call it, and you will not call it after it has been staying, so don't teach your dog that the two commands always go together. Instead, build up a reliable stay by reinforcing your dog when it is staying.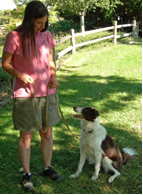 The first few times that you have your dog stay, you need to stand next to it. Then, after a second or two, reinforce it for staying. As your dog gets used to the idea of staying, you can gradually move farther and farther away from your dog as it stays. Then, walk back to your dog, and reinforce it while it is still staying. Until your dog is consistently staying when you leave it, keep holding on to its leash while it stays, in case it gets up from the stay. When your dog gets good at staying while you are away from it, you can begin ducking out of sight briefly while it stays.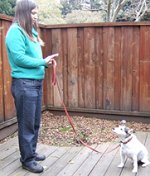 Gradually increase the amount of time that you expect your dog to stay. At first, your dog should only be required to stay for a second or two, before being reinforced for staying. As it starts to understand the stay, you can have it stay for longer and longer periods of time.

As you can see, the real key to teaching a dog to stay is to reinforce the stay itself, and to incrementally make the stays more difficult. And, of course, as with all dog training, be consistent. For a full description of how to train your dog to stay, please refer to my e-book HOW TO HAVE A WELL-BEHAVED DOG.

Please let me know how you like this information, or send me your questions. Any comment that you have can be left below.