BARKING ON COMMAND -HOW TO TRAIN YOUR DOG TO "SPEAK"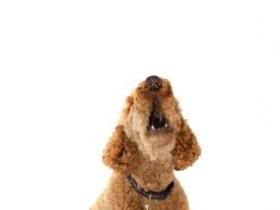 Last week, I was pet sitting at a house with a barking dog. I was sorely tempted to teach the dog the "Speak" command. Why? It can be a great way to cure the above problem. Once a canine starts getting reinforced for obeying the "speak" command, and at the same time experiences that it gets no reinforcement in the absence of the command, it may decide that it would rather bark when told to than it would when not told to. It actually works quite well. I have had clients who used this method, and only this method, to stop Fido from being too noisy.
Even if your dog is generally quiet, the "speak" command could be something that you would like to teach. It was one of the first commands that I taught to Emma, as she was a little too loud. I can't tell you how many people have been totally amused by the fact that Emma knows this trick. My old land lady always loved it. I have found that it's a great way to show Emma off to people. Who knows, if you teach it to your canine, you might even find it amusing.
Before I tell you how to teach your dog "Speak," I need to say that it can be hard to teach to a dog that never opens its mouth to make noise. If you have one of those canines, then this probably is not the trick for you and your dog. However, it can be quite easy to teach a canine that barks a lot It took only a few minutes for me to teach it to Emma.
The trick is to catch your canine when it starts barking. As soon as it starts, say "speak," then reinforce your dog with a treat, attention, or something else your dog values.. Keep pairing the word "speak" with the behavior, and with reinforcement, until your dog recognizes the connection. You will know that your canine understands the concept when Fido responds correctly to the command.
Don't be discouraged if it takes you longer than it took me and Emma. With persistence and consistency, you'll get through to your canine what you want from it. Once your dog understands the command, start telling it to speak, and reinforcing it for obeying, periodically throughout the day. Then, ignore Fido when it barks (and you haven't told it to) at you to see if you will present a treat. Make it clear that the only time it gets positive reinforcement is when it obeys the command.
Once you have taught your this command, you have a great deal of control over when your dog makes noise. In fact, if you would rather that your canine just be quiet all of the time, just don't use the command after it is taught. However, if you go to that extreme, you will have to come up with some other tricks for your dog to do to get reinforcement. Of course, maybe, like me, you will enjoy showing this trick off to others for their amusement. Whatever you decide, have fun with it.
This site is owned and maintained by Silver Linings Pet Services. 1547 Palos Verdes Mall #202, Walnut Creek, Ca 94597 (925) 366-6042