YOSEMITE'S GREAT GRAY OWLS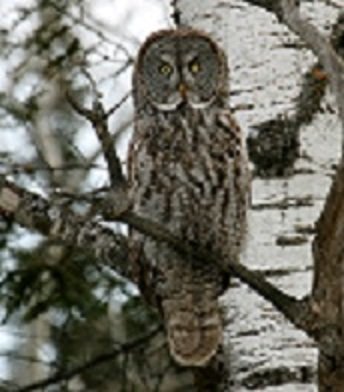 Recently, I had a phone conversation with a man that I did research on great gray owls with in Yosemite. It was a shock for me to realize that it has been more than 20 years since we did that research. Where does the time go? Anyway, it got me thinking about those days, and thinking about the owls. I know that in the past I wrote about things from the perspective of male great gray owls. Now, let's take a look at what being a California great gray means.

First of all, you should know that this is an arctic species. They can be found all over the arctic; Scandinavia, Siberia, northern Canada, Alaska, etc. They are built for cold. This means that they are mostly feathers. A female great gray owl (female owls are bigger than their male counterparts) can stand almost 3 feet tall. She looks massive. However, she weighs in at only about 4 pounds max. By contrast, the smaller in stature, and much more common, great horned owl, only reaches about 27 inches in height, while weighing up to 5 ½ pounds. Great gray owls are a mass of feathers around an itty-bitty body. As, I said, they are built for the cold.

Knowing the above, it is strange to think of great gray owls as living in "sunny" California. But, live in California they do. However, their range in this state is limited to the Yosemite area; separated by hundreds of miles from their relatives in Oregon. Yes, it gets cold in Yosemite; it got down to 10 degrees Fahrenheit sometimes when I lived there. That's awfully cold for a San Francisco Bay Area native. However, it is nothing compared to the subzero temperatures of the arctic. And, it gets hot in Yosemite in the summer. Let me tell you; I spent many summer days observing those feather- laden owls looking mighty hot; their mouths open wide as they engaged in gular fluttering (the bird equivalent of panting).

Being lightweight owls, great grays eat small prey; mostly mouse-like rodents called "voles." In Yosemite, and some other areas, they will also eat gophers. Both voles and gophers live on the ground; and in the winter time, that means that they are under the snow. Now, this is not a problem for great gray owls that live in arctic areas, because the snow is relatively soft there. They simply dive through the snow (feet first) to get to their food. Great gray owls in Manitoba have been observed diving through meter – deep snow that is packed enough to hold the weight of a grown man. Great grays have excellent, directional hearing, so when they hear a rodent running around under the snow, they can accurately pinpoint the rodent's location without seeing it. Thus, unless food supplies are low, or the snow is too deep for them to dive through, great grays are not known to be migratory. Actually, they are considered nomadic in most of the world. They will stay in one area for as long as there is food available and accessible, then move on to another area.

However, Yosemite great grays are migratory. When the snows hit Yosemite, they move to areas without snow. As winter is coming to a close, they move back to the same breeding territory that they used the previous year. Now, the snow in Yosemite doesn't get that deep, really; at least not at the elevations where these owls hang out. So, the question is, why do they need to move? Are they wimpier than their northern cousins when it comes to cold and snow? What gives?

Well, that's what I did my master's thesis on. Actually, I looked at two things: Where do the great gray owls go in the winter (no one had a clue until I studied it), and what is the trigger that gets them to leave?

Let me give you a hint about the snow in the Sierra Nevada, where Yosemite is located. The snow there is known as "Sierra Cement." It seems that, during the day it gets warm enough for the snow to start melting. Then, at night, the temperature goes back down, and the melted snow turns to ice. What I found, actually, was that the snow was layered. Each snow storm would lay down a layer of a few to several inches. If a layer that was on top went through the melting and freezing process, it remained as an ice layer when a new layer of snow was laid on top of it. Thus, I would find layers of thin ice, slush, powder, and thick ice; all in the same place. This makes it hard to dive through, as you might imagine.

In case you are wondering, yes, through the technology of radio transmitters, I did find out where some of the great gray owls went in the winter. Some flew out of the Park, down to the area around the town of Mariposa. Some went to a low- elevation meadow within Yosemite, and some went down to an area right outside of the Park with a huge system of meadows that is actually used as breeding grounds for other great gray owls. They pretty much avoided areas where snow stayed on the ground.

I did a bunch of tests on the snow. I looked at layer hardness, layer density, layer thickness, layer temperature, and depth. It was cold work; I kid you not. I had to stick my hand in snow, repeatedly, and it was easier to do the measurements without gloves. I also had some 2 – and 3 – pound steel balls that I dropped on the snow to see how far they would penetrate. I can remember times when those balls hit the "snow" with a loud "clunk," and didn't penetrate at all. Imagine attempting to dive through that with your bare feet (as the owls do). I fully expected that, when all the statistics were calculated, it would show a correlation between owl absence and layer hardness. However, I was wrong. What I found was a clear correlation between owl absence and snow depth. The deeper the snow, the less likely that owls would be present; period. So, maybe the great gray owls in Yosemite are wimpier than their arctic relatives. However, I challenge those arctic owls to "sweat" through a Yosemite summer.



FREE SUBSCRIPTION
to Rosebud's weekly e-zine for pet owners who want the best for their pets, Silver Linings.
LEARN dog training techniques
OBTAIN dog behavior information
RECEIVE general pet information
READ fun animal stories.

We promise to never sell, rent, trade, or share your information with any other individual or organization.
---

DO YOU LIVE IN THE SAN FRANCISCO EAST BAY? CHECK OUT OUR DOG TRAINING AND PET SITTING SERVICES
---

WANT TO LEARN HOW TO TRAIN YOUR DOG??
BUY THE E-BOOK THAT SHOWS YOU HOW TO HAVE A DOG THAT BEHAVES WELL IN ALL SITUATIONS CLICK HERE FOR THE PDF VERSION
---
---
FREE 15-MINUTE SKYPE APPOINTMENT