Emma The Swimming Dog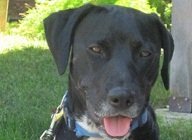 At first glance, anybody would guess that Emma is a swimming dog. This is because she looks, and acts, like a Labrador retriever mix. However, Emma's lack of swimming, when I first adopted her, was decidedly un-lab-like. In fact,she was scared of water. The average lab is a swimming dog. Most labs love being in the water. I even know one lab that readily jumps in the swimming pool whenever she returns from a walk, no matter what the temperature is outside. This was not Emma. Just being near a body of water turned her into a scared dog.

When I first got Emma, she would do anything to avoid being in water. It was obvious that the idea of being a swimming dog was terrifying to her. You may recall that I wrote an article on dealing with fear in dogs a few weeks ago. In that article, I pointed out the dangers of forcing a fearful dog to face its fears. I knew that making Emma go into the water would most likely make her even more scared of it. So, for the first year that we were together, I did not make any effort to get her to try out swimming. I would take her to the creek near our house, but she did not have to go down to the water itself, if she didn't want to, let alone be a swimming dog. Soon, if we were near the creek, she would go down to it to get a drink, when she needed to.

In addition to the above, Emma sometimes got a chance to observe dogs swimming, and enjoying it. This was somewhat stressful for her. She would often become concerned about her friend, and stand at, or run along, the edge of the water, sometimes barking. I also let her watch me swim. She showed the same concern for me that she showed for her swimming dog friends. This concern was particularly strong if she watched someone swimming in a pool, and I sometimes had to put her inside to keep her from getting too anxious.

Everything began to change during Emma's second summer with me. One particularly hot day, I felt the need to give myself and Emma the chance to cool down. I called to Emma to come outside with me, and calmly walked to the creek with her. Then, I walked in (I was barefooted and wearing shorts), staying where it was shallow. I then walked down the creek where it would be hard for Emma to follow along the bank. It didn't take long for Emma to take a tentative step into the water. This was followed by more steps into the water, and soon she was completely in the water, drinking, and actually seeming to enjoy herself, somewhat.

From that day forward, Emma was willing to go into shallow water, if she was hot. She continued to avoid water that was deep enough to require her to swim, but just going into the water was such a big step that I was satisfied. Soon, she was running into the water, even on not so hot days. She was starting to remind me of other labs.

It took another year before Emma attempted swimming. The first time was an accident. We were at a park with her old friend Maggie and two other dogs that we'd just met. The other three dogs went swimming in a pond. At first, Emma would only go into the water adjacent to the shore, not willing to follow the others into the deeper water. Then, after coming out of the water, she went in again at a place where it was not shallow. I'm sure that she didn't realize how deep the water was, or she wouldn't have gone in at that place. All of a sudden, she was a swimming dog. Of course, she immediately swam to where it was shallow, and walked out. However, she was not the scared dog that I had before. I considered it a victory for her.

A few days later, on a really hot day, I had to go to Marin County for an evening meeting. I took Emma with me, and we went early enough to stop at a State Park that has a beach with access to the San Francisco Bay. I wanted to go swimming, and I did; straight out into the Bay. It got too deep for a dog to stand pretty quickly. Emma bravely followed me. But, as soon as she caught up with me, she turned around and headed for shore. She did this repeatedly. Each time, she would swim as far as I was (still swimming away from the shore), turn around, swim all the way back to shore, and get out. Then, she'd do it again. She had her workout for the day. What a victory for her! To actually become a swimming dog of her own volition was a big step. I was extremely happy.

Now, it is a year and a half later. It still took time for Emma to want to go in to water that was too deep for her to wade. However, I can now say that Emma likes swimming, and that she readily seeks out water to go into, even in the winter. She still doesn't like swimming pools, though. She made some progress, last summer, with the pool in the backyard where we have been living. She would walk onto the steps in the pool, but go no farther. She is clearly still a fearful dog where pools are concerned. However, I have great confidence that she will overcome this fear as well, in time, and then she'll be a swimming pool dog.
For complete information on working with a fearful dog, or a dog with other behavior problems, check out my e-book.